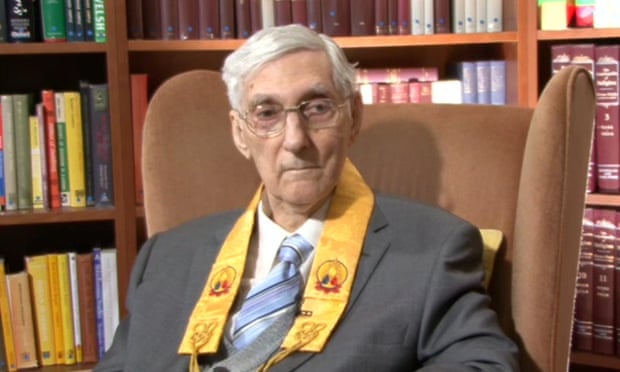 'Deep regret': Dennis Lingwood, now frail at 91,
is the founder of the Triratna order. Photograph: Vimeo
Followers allege they were coerced into sex in 1970s and 80s with elders of UK's Triratna order
Jamie Doward
The Guardian
February 19,, 2017
One of the UK's largest Buddhist orders has been forced to report allegations of sexual abuse after a former follower claimed he was coerced into sex with one of its elders. In a separate development, the group's founder has apologised for having relationships with its members – some of which, he has previously acknowledged, may have been against their will.
Triratna
, which has tens of thousands of followers, is battling to protect its reputation, both in the worldwide Buddhist community and among its own members who are questioning the extent to which the coercion was perpetrated and how long it continued.
Founded by Dennis Lingwood in the 1960s, the sect, formerly known as the
Friends of the Western Buddhist Order (FWBO)
, is a wealthy community with 30 retreats in the UK and a further 20 in countries including Australia, the US, Germany and Mexico. In the 1980s its Croydon centre was closed down amid newspaper reports that its members were being manipulated.
Now its troubled history has resurfaced after Lingwood, 91, known by his Buddhist name, Sangharakshita, made a shock confession late last year. After being treated in hospital for pneumonia, Lingwood issued a statement expressing "deep regret for all the occasions on which I have hurt, harmed or upset fellow Buddhists, and ask for their forgiveness."
His decision to speak out followed discussion on social media from past and present members who expressed concerns about the culture he had promoted within the order. Last month a former follower alleged that he had been groomed for sex by another senior member of the order at the Croydon centre in the 80s when he was just 16, and therefore a minor in the eyes of the law at the time.
In a statement on its website, the community said: "As part of our commitment to safeguarding the welfare of children and vulnerable adults, Triratna's safeguarding officer has reported the matter to social services in south London, in accordance with formal safeguarding requirements in the UK. Where required, we ask members of the Order to co-operate fully with any investigation, should that take place."
Lingwood encouraged his heterosexual male followers to experiment with homosexuality as a form of self development. A former member, Mark Dunlop, told the BBC last autumn he had been persuaded to engage in sexual activity with Lingwood at an FWBO retreat near Norwich in the 1970s. "I told him I hated it. He said, well, you need to keep persevering, you mustn't give up."
"He [Lingwood] thought that it might be a good thing for them to get over their fixed self-view, and one of the things they might try doing [to achieve this] is having sex with other men," explained Triratna's safeguarding officer, who goes by the single Buddhist name of Munisha.
A document produced by the order suggesting that relationships between students and teachers could be beneficial was until recently still available online. "We took it out of public circulation, not as a way of covering it up but because we agreed it was unsuitable," Munisha explained. "In the early days, in the context of the 1970s, it was all very weird. He did for a while explore ideas based on Greek ideas of relationships between younger and older men. But I've been around since '91, and I've not heard a tracing of that teaching, and we would not permit that now."
In an interview with a Buddhist follower in 2009, Lingwood said of the sex between him and students: "Perhaps in a very few cases they were not as willing as I had supposed at the time – that is possible." When pressed about whether he considered he had breached the student-teacher relationship, Lingwood said: "I did not regard myself as a teacher with a capital T." He added: "I have had many, many human encounters, the great majority non-sexual, and most of those encounters, including the sexual ones, have been satisfactory for both parties. If there were any encounters that were not satisfactory for the other person, whether at the time or in retrospect, then that is a pity and I am truly sorry that that should be the case."
Triratna's College of Preceptors, its leadership body, has issued a statement in response to Lingwood's apology. "Consideration of some aspects of Bhante's [Lingwood's] past has been difficult for some of us in the College, as it has been for many of our brothers and sisters in the Order and others associated with our community. Bhante is the founder of our Order and Movement, and we feel enormous appreciation and gratitude to him for his teachings and inspiration – and yet at the same time we must acknowledge the effects of some of his past actions."
Munisha said: "Everybody knows he's had sexual relationships with some of the people in the community. Some people around today say they were very happy with those relationships, and some say, no, they didn't really want to, and felt confused by his advances and felt he should not have put them in that position." She said the order had set up a safe space for people who had been members of the order in the 70s and 80s whobelieved they were abused to have their stories heard.
https://www.theguardian.com/world/2017/feb/19/buddhist-sexual-abuse-triratna-dennis-lingwood