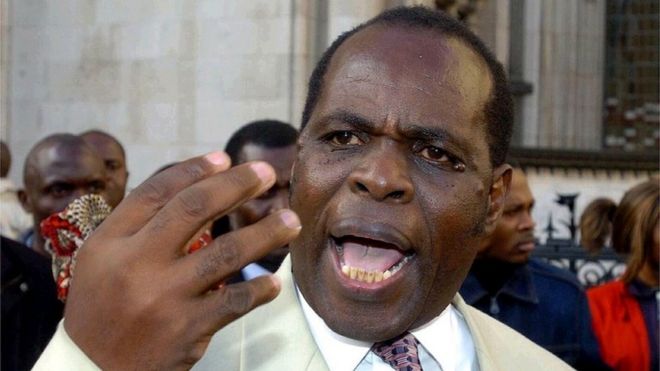 Pastor Gilbert Deya is alleged to have told infertile women they
could have "miracle babies"
BBC NEWS
August 4, 2017

The UK has extradited a self-styled Kenyan pastor, who claimed he created miraculous pregnancies, to Kenya to face child-trafficking charges.

Gilbert Deya's extradition came after he failed in his decade-long legal battle to remain in the UK.

He denied charges of stealing five children between 1999 and 2004 when he appeared in court in Nairobi.

Concerns were first raised about the conduct of Mr Deya, who ran a church in London, in a BBC investigation in 2004.

Infertile or post-menopausal women who attended the Gilbert Deya Ministries church in Peckham, south-east London, were told they could have "miracle" babies.

But the babies were always "delivered" in backstreet clinics in Nairobi, Kenya's capital.

Mr Deya later moved to Scotland, and was arrested in Edinburgh in 2006 under an international arrest warrant issued by Kenya.

His Gilbert Deya Ministries is being investigated by the UK Charity Commission for alleged mismanagement.

"Our statutory inquiry into Gilbert Deya Ministries is ongoing. We are currently considering the implication of Gilbert Deya's extradition on our investigation," the commission said in a statement.






Gilbert Deya: 'The Archbishop of Peckham'


A former stonemason who moved to London from Kenya in the mid-90s
Set up the Gilbert Deya Ministries as a registered charity, with African and Asian branches
Known for his blend of charismatic, performance-style preaching
Had income of £652,800 ($858,000) for the financial year ending December 2015
Spent £609,300
Described by UK Labour MP David Lammy as a "modern-day snake-oil salesman"
Says he was consecrated as an Archbishop by a US evangelist in 1992


When the BBC asked Mr Deya during its 2014 investigation how he explained the births of children with DNA different to that of their alleged parents, the 65-year-old Mr Deya said: "The miracle babies which are happening in our ministry are beyond human imagination.

"It is not something I can say I can explain because they are of God and things of God cannot be explained by a human being."

Kenya's police spokesman Charles Owino told the BBC that Mr Deya had arrived in Nairobi aboard a Kenya Airways flight following his extradition.

Mr Deya had opposed his extradition, saying he feared being tortured and sentenced to death.

In 2007, his wife, Mary, was sentenced to two years in prison in Kenya after being convicted of stealing a baby.

In 2011, she was sentenced to three years in jail after being convicted of stealing another child.

Desperate women, some past the menopause and others who were infertile, were convinced that being prayed for by Mr Deya and travelling to Kenya would result in a child.

Once there, they were convinced by Mrs Deya and others that they were experiencing labour and taken to illegal clinics where they believed they had given birth.

But they were actually given babies which had been taken from local women.



http://www.bbc.com/news/world-africa-40824267