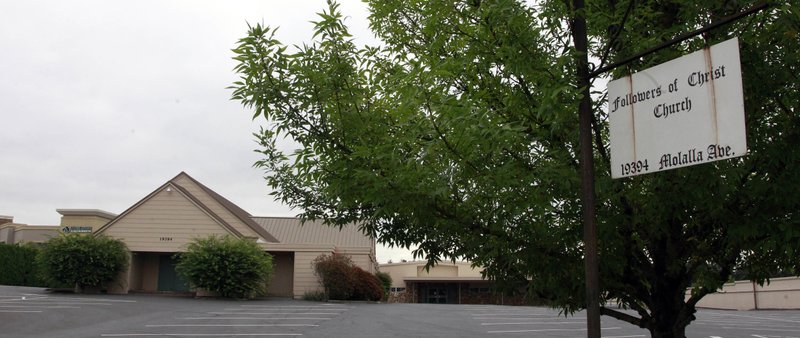 Followers of Christ Church
GILLIAN FLACCUS
THE ASSOCIATED PRESS
March 15, 2017
PORTLAND, Ore. (AP) — Oregon's chief medical examiner said Tuesday that an infant born to members of a church that practices faith healing died from complications of prematurity as authorities conducted a criminal investigation into the child's death.
The baby, Gennifer, was probably "a couple of months" premature and her lungs were too underdeveloped to allow her to breath unassisted for long, Dr. Karen Gunson, the chief medical examiner, said in a phone interview.
Clackamas County sheriff's investigators will present the case to prosecutors but have not finished interviewing witnesses, Sgt. Brian Jensen told The Associated Press in a phone interview.
She died a few hours after her birth at her grandparents' home on March 5 in Oregon City, where the Followers of Christ Church is based. Her birth was attended by three traditional midwives, family members and other church members, authorities have said.
No one called 911 when the baby began to have trouble breathing, Jensen said.
A deputy medical examiner responding to a call about Gennifer's death noticed the surviving twin, Evelyn, was also struggling and called law enforcement, who persuaded the parents to get her medical treatment.
That baby girl is doing well in the neonatal intensive care unit at Oregon Health & Science University, Gunson said.
"Given the fact that her sister is doing pretty well, I suspect she probably would have done pretty well too," she said. "I can't tell you for sure whether she would have survived, but the fact is, there's a twin that is doing well."
Gennifer and Evelyn's parents, 24-year-old Sarah Mitchell and 21-year-old Travis Mitchell, did not return a telephone message seeking comment. Gunson said Sarah Mitchell did not know how far along the pregnancy was because the mother received no prenatal care.
The church, which operates in Oregon and Idaho, has about 1,000 members and is rooted in Pentecostalism, although it is not affiliated with any denomination.
Members believe in a literal translation of the Scripture, which states that faith will heal all and if someone dies, it is God's will. The congregation shuns traditional medicine in favor of prayer, the laying on of hands and anointing the sick with oils.
Several members of the church have been convicted of crimes for failing to seek medical care for their children, including Sarah Mitchell's sister and brother-in-law. Children born to church members have also died in Idaho.
In 2011, a judge sentenced Sarah Mitchell's sister and brother-in-law to more than six years in prison after a manslaughter conviction in the death of their son, David. The boy was born prematurely and weighed less than 4 pounds.
An autopsy determined he died of staph pneumonia and complications from a premature birth, including underdeveloped lungs.
Another couple was convicted that same year of first-degree criminal mistreatment and sentenced to 90 days in jail for not getting medical treatment for their infant daughter, who developed an abnormal mass of blood vessels across her face and left eye.
A third couple was convicted of criminally negligent homicide and sentenced to 16 months in prison after their 15-year-old son died of a urinary tract blockage.
Of 78 children buried in the church's cemetery from 1955 to 1998, at least 21 could have been saved by medical intervention, according to a 1998 analysis by The Oregonian.
In 1999, state lawmakers passed a law that eliminated religious protections in cases of second-degree manslaughter and first- and second-degree criminal mistreatment.
The law left religious immunity in place for some other crimes but gave prosecutors more options for charging parents in such cases.
Repeated attempts to pass bills in Idaho to loosen religious exemptions in such cases have failed.
A vigil for the dead children of the church's members is planned by former church member Linda Martin at the Idaho statehouse on March 21.
https://apnews.com/0616781dfb5f4b339671501c61e6fe8d