Sri Sri Ravi Shankar's World Culture festival is to be held on the Yamuna river, with campaigners saying it risks 'an everlasting impact on the environment'
The Guardian
Agence France-Presse in Delhi
March 1, 2016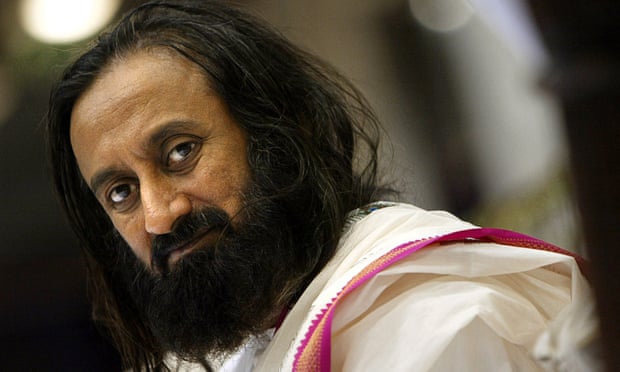 Indian guru Sri Sri Ravi Shankar has come under fire for a festival to promote peace that environmentalists say risks damaging the delicate ecosystem of Delhi's Yamuna river.
Critics say the World Culture festival, to be held from 11 March on the banks of the river with millions of fans – including India's prime minister – in attendance, will cause lasting environmental damage.
Organisers say they expect 3.5 million people to attend the three-day event, which will feature yoga and meditation sessions, peace prayers by Sanskrit scholars and traditional cultural performances from around the world.
Manoj Mishra, of the Live Yamuna campaign, said more than 1,000 acres had been cleared to make way for a stage, pontoon bridges, portable cabins and parking.
"Reed beds were cleared, vegetation was chopped for a two-and-a-half day event, which will leave an everlasting impact on the environment," Mishra said.
Shankar's Art of Living foundation, which is organising the festival, denied there would be any permanent impact and said it had secured permission from the authorities to hold the event. "We have used only eco-friendly material like wood, mud, cloth and scaffolding towards building a temporary stage," the foundation said.
The event is billed as a platform "for spiritual and religious leaders, politicians, peacemakers and artists to spread the message of global peace and harmony".
http://www.theguardian.com/world/2016/mar/01/renowned-indian-guru-criticised-for-festival-that-risks-damaging-ecosystem