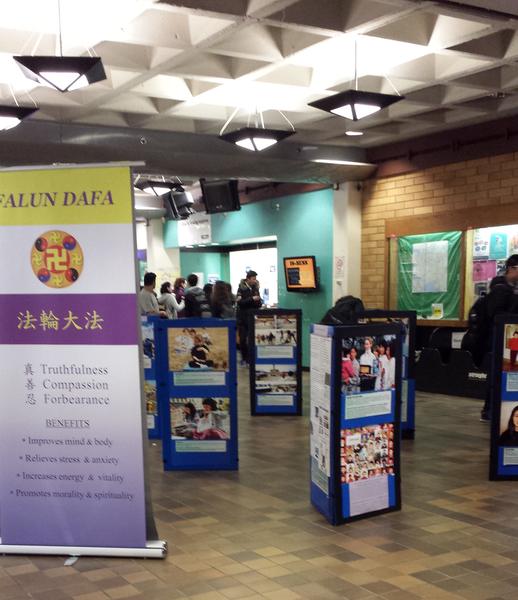 A photo exhibition of Falun Dafa's history
hosted by the AMS Falun Dafa Fellowship
AMS Falun Dafa Fellowship
Joshua Azizi
Ubyssey
September 13, 2017


The AMS Falun Dafa Fellowship has reported that materials from their info booth in the Nest were stolen and vandalized. Since August, the alleged thefts are still under investigation and no arrest has been made, according to the RCMP.

Formed in 2014, the club focuses on the practice of Falun Dafa, a Chinese spiritual discipline centred around meditation, qigong exercises and the practice of three moral principles — truthfulness, compassion and forbearance.


Also known as Falun Gong, the faith was introduced to China in 1992 and quickly rose to prominence with supposedly millions of followers in the country at its peak.

In 1999, it was banned and designated a cult by the Chinese government, after "10,000 Falun Gong adherents staged a silent protest outside [a] Communist Party's leadership compound to complain about [what they considered to be defamatory] reports in the state-run media." Its remaining followers have been reported to be frequently arrested or harvested for organs.

As a result, the club's President Skylet Yu suspected that the perpetrators were likely from China due to this cultural context.

"Several unknown males and females of Asian descent [have been] identified as persons of interest" by the RCMP, but their exact identities are still to be determined.

What happened

On August 11, 12 and 14, items such as books, pamphlets, DVD's and display signs were stolen from the AMS Falun Dafa Fellowship's booth. According to Yu, the missing materials were for spreading awareness about the Falun Dafa and the suppression it faces in China.

She communicated this matter to the AMS, whose staff reviewed the video footage and told her what happened.

"He said it seemed like there were two very suspicious people hovering around our booth for quite awhile until the coast was clear, and then they basically emptied out our booth and threw our stuff away," Yu said. "So even from the first day, there was already over $200 worth of damage."

The club later reported these incidents to the RCMP due to their repetition. The AMS's security footage was also shared to help with the investigation of the alleged thefts.

On the 14, their materials were not only stolen but also vandalized.

"We had sandwich boards on display [that] were completely torn and ripped apart," said Yu. "All our signs were ripped and thrown in different places. There were parts of them on the floor, parts of them on the table — our tablecloth was also not on our table anymore, it was kind of pulled off and it seemed quite violent."

When Yu approached the AMS about this, they told her that they had been watching over their booth, but this attack had happened when the security guard monitoring the area was taking a half-hour lunch break.

"We updated the RCMP, and [they] suggested that there could be anti-Falun Gong organizations or students on campus," she said. They also advised her to inform AMS President Alan Ehrenholz about it.

In a brief statement to The Ubyssey, the AMS expressed their concern over the situation.

"The AMS places a high value on the safety and security of all students, staff, and members of the public accessing the AMS Student Nest building," read the statement. "As such, the building operations team have made clips of the Falon Dafa [sic] student club vandalism incident available to the RCMP campus detachment. Should the RCMP be able to identify the offending student(s) in question, further action will be considered, in collaboration with the club and the AMS operations committee."

Between two societies

Beside these incidents, Yu noted that the most reactions — particularly those of students from China — to Falun Dafa have been that of surprise and apprehension. She based this perspective on her experience working with them as a teaching assistant.

"They're totally shocked when they found out that I practice Falun Dafa because it was so different from what they had learned about it," she said. "In their history textbooks there will be just one sentence that says 'Falun Dafa is an evil cult,' [or] 'they're a violent group', right out of nowhere."

In particular, Yu claimed that many are unwilling to interact with fellowship because they are scared that the Chinese government might take note of any associations. She recalled one conversation with a friend from China that turned tense when the topic of Falun Dafa came up.

"She said 'I know you can practice Falun Dafa and it's good for you, but practice it in your own home, don't show your face. Don't even show your face in public because you're gonna be on the blacklist and everyone around you is going to be endangered … Do you know how many eyes are watching?'

"We were actually sitting in a restaurant. We weren't even on UBC campus at the time."

What now?

Since the RCMP can't identify the perpetrators from the security footage, they have told Yu that there's nothing they can do at the moment, according to her.

Despite the damages, she and the rest of the club don't wish to penalize the perpetrators.

"We understand that they probably don't know any better," she said. "They grew up from China, this is what they know. Or if they didn't grow up from China, maybe this is what they heard from their friends in China."

Instead, the club is more interested in educating people what Falun Dafa is and what it isn't.

"We just hope to raise awareness so that they know Falun Dafa isn't a cult," Yu said. "We're not trying to overthrow any government, we're not political, we don't ask for money and we're not trying to scam anyone either. So hopefully they'll reach out or they'll at least go online and look it up and find out for themselves."
https://www.ubyssey.ca/news/AMS-Falun-Dafa-materials-reported-stolen-and-vandalized/